How do I schedule my Nest Cam to turn on or off?
You can use the Nest app to schedule when your Nest Cam turns off and on. It's easy to create a unique schedule for each day of the week, or the same schedule for every day.
If you'd like Nest Cam to turn off when you get home, or turn on every morning when you go to work, you can easily create a schedule. So if you usually come home around 6 PM in the evening, you can have your Nest Cam turn off from 6 PM to 11 PM. It will then turn on automatically at 11 PM to keep an eye on things after you've gone to bed.
How does a Nest Cam schedule work?
You can schedule your Nest Cam to turn off and on again up to 32 times per week. For example, you can set a schedule to turn the camera off on Wednesday from 6 AM to 8 AM so that it doesn't capture video when you're getting out of bed. Then, if you don't want the camera on between the time you get home from work and the time you go to bed, you can set Nest Cam to turn off on Wednesday from 5 PM until 10 PM. Also, keep in mind that if you schedule a time for your Nest Cam to turn off at 5 PM but it's already 5:30 PM, it won't turn off until 5 PM the next day.
How to create a Nest Cam schedule
1. On the Nest app home screen, pick the Nest Cam that you want to create a schedule for.
2. Select the Settings icon in the top right corner of the screen.
3. Select Schedule.
4. Turn on Schedule.
5. Pick the day of the week that you want to schedule.
6. Select Add time (on a phone and tablet) or Add schedule (on a computer).
7. Set the time you want your camera to turn off and when you'd like it to turn on again.

If you want the same schedule to repeat over several days, simply select Repeat.

Tip: If you want your Nest Cam to stay off overnight, you'll want to create time slots for entries before and after midnight.

For example, if you want the camera to be off from 10:00 PM Monday to 8:00 AM Tuesday, schedule the camera to turn off from Monday at 10:00 PM to 12:00 AM. Then, schedule the camera to turn off Tuesday at 12:00 AM until 8:00 AM.

8. Then choose which days you'd like the repeating schedule to apply to.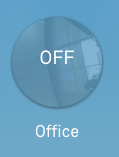 How do I know that scheduling is working?
Simply open the Nest app when the camera is supposed to be off to verify that it is off. In your device list you'll see that your camera is listed as OFF. Then open it again when the camera is supposed to be on to verify that it's on.
You can also look at the camera itself. If there is a green light on the front of the camera, that means it's on and transmitting video.