Replacing batteries in the Nest Protect
Nest Protect uses Energizer Ultimate Lithium AA batteries (L91) , which are available for purchase at your local retailer.
Nest Protect (Battery) requires 6 AA and Nest Protect (Wired 120V) requires 3 AA as backup batteries. In case of a power outage, Nest Protect (Wired 120V) will use its backup battery. All Nest Protect models are designed for multiple years of battery life.
Where do I get them?
These batteries can be purchased at your local retailer.
Can I use other types of batteries?
– Using types of batteries other than the ones recommended by Nest will be harmful to the smoke/ CO alarm operation.
– Don't mix and match batteries.
– Don't place new batteries in with old batteries.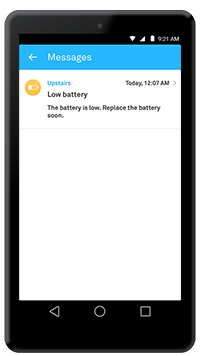 – Don't use rechargeable or alkaline batteries.
Nest Protect will tell you when it's time to replace the batteries
About six months prior to replacing the batteries, Nest Protect will give you warning that the batteries are getting low. Nest Protect will pulse yellow when you turn off the lights at night. Press the Nest button and Nest Protect will say: "Nest Protect Battery is low. Replace it soon." You will also receive a notification on your Nest app. If the batteries have not been replaced, Nest Protect will send you a second warning with three months of battery life left. When Nest Protect has two weeks of battery life left, it will chirp until the batteries are replaced.
You can check the battery life of your Nest Protect at any time in the technical specifications of your Nest apps.