Selecting a location for your Sonos speakers
Each room is unique, and there is no hard and fast rule for speaker placement. There are many variables that can affect the sound of your speakers, such as furnishings, room size and shape, listener preferences, and many more. Regardless of where your speakers are placed, you can perform Trueplay tuning to adapt the speaker to the acoustic qualities of your room.
Learn more about using Trueplay in our article: How to tune your speakers with Trueplay.
General guidelines:
– Sonos products are not water-resistant. Do not leave them outside during a rain storm or position them near water.
– Certain surfaces can affect the WiFi signal. Avoid placing Sonos products on metal, concrete, brick, or marble surfaces to receive the best wireless signal.
– Do not place Sonos products on top of, or directly next to, other wireless devices (e.g. WiFi router, cordless phone, baby monitors).
– Stereo Pairing allows you to group two Play:1s, Play:3s or Play:5s in the same room to create a wider stereo experience. In this configuration, one unit serves as the left channel and the other serves as the right channel. Learn more about stereo pairing in our article: Creating, Separating, and Placing a Stereo Pair.
– If you are looking to set up surround speakers with your Sonos Playbar, Playbase, or Beam, check our article for more information: Setting up surround sound with Sonos home theater speakers.
Speaker Orientation:
The Sonos Play:5 (gen2) and Play:3 can be placed in multiple orientations (horizontal and vertical) allowing some flexibility with regards to placement.
Horizontal: Recommended orientation for a single speaker as it provides the best audio quality by enabling stereo sound over a wide sound stage.
Vertical: While positioning the speaker in vertical orientation may be necessary for certain spaces, it should be noted that there is no stereo playback in this orientation. The speaker will play in mono.
Play:5 (gen2) orientations

Play:3 orientations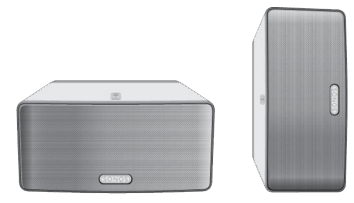 Using Sonos in a bathroom:
Only the Sonos One, the Play:5 (gen2) and Play:1 have sealed architectures, which make them humidity-resistant and allows you to safely use them in the bathroom; however, as with all Sonos speakers, they are not water-proof, and may be damaged if exposed directly to water. Do not position them near water or leave them outside during a rainstorm.
Wall mounting the Play:3 and Play:1
The Sonos Play:1 and Play:3 have a threaded mounting hole on the back. If desired, you can easily wall mount your Play:1 or Play:3 using a suitable mounting bracket (not included). Choose a location to mount the speaker in, taking care to avoid heat, steam, dripping water or hidden wiring, and follow the instructions included with the wall mount kit.
Please consider the following when selecting a mounting bracket and placement for your speaker:
– ¼ inch (6.35mm) integrated, threaded (20 threads per inch) mounting hole
– Wall mount bracket you purchase must support at least 10lbs. (4.5 kgs)
– Supplied power cord is 2m in length